Outsourced Credit Control and Finance Back Office for a Recruitment Agency: Hamilton Mayday Ltd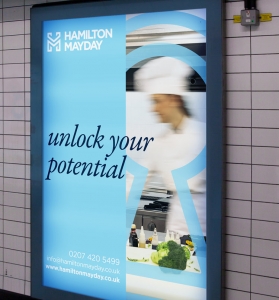 'After 10 months of service the overall outstanding debt on the Hamilton Mayday ledger has been reduced by 38% and outstanding debt over 90 days has been reduced by a massive 70%.'
Based in London, with several satellite offices and a turnover of £15m, Hamilton Mayday are a successful recruitment agency working in a bustling business sector providing bespoke solutions primarily in catering, industrial and nursing, with contractors and perms to both the public and private sectors. In a very competitive market, it is vital that the agency has an efficient back office to ensure profitability. The business has a finance facility with a leading factoring provider but have found it necessary to manage their own credit control.
Unfortunately, the business began to experience difficulties in their own credit control department, with high levels of absence starting to effect performance and hence cash-flow. Whilst considering how to 'plug the gap' in credit control, Hamilton Mayday came across other inefficiencies within the finance team and decided to review the entire function.
Improving cash flow by 38%
After a recommendation from their accountant, Hamilton Mayday were introduced to Sterling who implemented a temporary credit control service to cover absence and get the ledger back in shape. The service worked remotely on the agency's accounts system, contacting clients entirely under the Hamilton Mayday brand so that the outsource was invisible to customers. Eventually Hamilton Mayday's credit controller left the business, and since Sterling's service had proven itself to perform better, more efficiently and reliably than in house resource, the outsource became permanent.
Improved cash flow was achieved quickly. The most important change was a vast increase in the number of phone calls being made to debtors; the previous team had relied far too heavily on emails, with reminders being ignored by customers and queries not being resolved.
Sterling boosted Hamilton Mayday's communication with their clients, chasing payments and providing customers with an 'after sales' point of contact that could deal with queries effectively by liaising with local Hamilton Mayday departments. And because Sterling provides an 'always-on' service, the agency's customers could confidently call a knowledgeable credit controller to discuss queries any time during business hours.
Outsourcing the credit control function to Sterling showed Hamilton Mayday the potential of using a specialist service provider for back-office functions. The business then took the decision to transfer further finance functions to Sterling's outsourced finance team on a trial basis, including accounts payable, bank reconciliation and monthly reporting.
It had been found that a high number of customer queries were due to issues in the previous payment allocation process at Hamilton Mayday. Sterling's finance team made a focussed effort to clean up the ledger, correcting previous allocation errors, thus giving a 'clean' and accurate ledger to be chased.
With a much clearer picture in front of them, credit control could focus on what was still outstanding and with whom, reconciling years of invoices and payments with minimum fuss and providing a report to Hamilton Mayday's management that was clear and concise.
Improvements to process and reporting
Following successful implementation of the outsourced finance function, further improvements were introduced by Sterling. A structured accounts payable process was introduced, ensuring that payments would be released to a schedule to improve cash in the bank for Hamilton Mayday whilst retaining key supplier relations. Sterling carried out a review of the agency's recently implemented Xero accounts system, and it's interface with the Tempaid payroll and invoicing system. Improvements were made to the set-up, interface and procedures, increasing efficiency and finally giving Hamilton Mayday real-time access to valuable management information.
One of the most valuable improvements to reporting was in cash flow forecasting and upcoming supplier payments. Sterling were able to introduce reliable reporting to give Hamilton Mayday a clear view of incoming and outgoing payments and cash in the bank.
Working as an extension to the Hamilton Mayday business
Strong communication is essential when outsourcing a business critical function. Sterling conducted regular phone conferences with Hamilton Mayday's management team to keep them abreast of progress being made. The calls were weekly at first, but as service bedded in and confidence grew the calls moved to monthly, with the agency's management gaining more and more time to focus on core business.
Sterling's multifaceted approach to the credit control and finance back office services have provided Hamilton Mayday with an immediate solution to its absence and performance concerns, whilst introducing improvements and efficiencies. Sterling have been able to reduce the resource required in the credit control function, so further reducing the cost of the function to the agency. The service is able to respond quickly to changes in Hamilton Mayday's requirement, adapting as the agency focusses on growing market share.