Case Study : Credit Control and Finance Back Office service for a growing e-bike manufacturer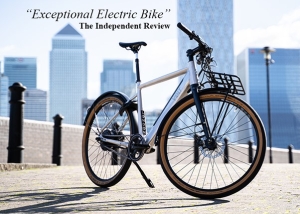 Volt bikes is an award-winning UK electric bike manufacturer. As one of the first e-bike companies in the UK, the business started from scratch as a family firm run by brothers James and Lyle Metcalfe.
'I'd seen the potential of electric bikes when I visited China back in 2005, and I was certain they would become a big hit in Europe. We started the business just a year later.
As a start-up in a new area of technology we knew we would have to be completely focused on core business to be successful. So, I didn't want to be distracted by back-office admin. Also, budgets were tight so we needed to somehow be really hot on cash-flow. At the same time, as a small business it wasn't financially viable to employ a dedicated finance team or credit controller.
Luckily, I'd had experience of working with Sterling in my previous IT business where they managed our credit control, so I contacted them to see how they might be able to support our electric bike business.
They proposed a service that would start off small to begin with, but would grow and evolve with the business to suit our changing needs. The service has been cost effective because we only paid for the hours we needed, but it also meant that we had access to an experienced finance team whenever we needed them.
The service managed almost all of our back-office finance requirements including invoicing, accounts payable, credit control, bookkeeping, expenses etc, and Sterling provided management reports so that we could keep a close eye on the finances. The credit control was key as our model involved supplying bikes on loan to bike shops, who were only invoiced once they sold them to a customer. Sterling also helped us with systems, putting Xero in place for us, which now integrates perfectly with our stock control system.
Importantly, right from the start the service worked entirely in the Volt name. Sterling's staff used Volt's phone system and email account when dealing with our customers, so they appeared to be calling or emailing from our office. Our clients had the impression that Volt had a professional full-time finance department from our first week of operation.
As we grew as a business, Sterling was able to scale the service up incrementally to meet our needs, starting from just a few hours per week, and growing gradually to a small dedicated team with absence cover. The support and advice we've had from them has been invaluable. It's meant we've been able to focus fully on developing our product and marketing, whilst being confident that cash-flow and finances were being looked after. As we've grown, Sterling have developed new processes, procedures and reports for us which are more appropriate for the larger business. We've never had to push them to make improvements, on the contrary, they've usually been the one's suggesting enhancements. Their support has been absolutely invaluable.' James Metcalfe, Owner, Volt Bikes.
Over the past 6 years, Volt has grown to be the leading UK electric bike manufacturer, recently winning the Red Dot international design award, and increasing production capacity to 25,000 bikes per year.
Volt continues to use Sterling to manage their credit control and finance back-office. Sterling keeps their cash flowing and finances in order, allowing Volt to focus on growing the business further.